Dipl. Phys. Felix Heimann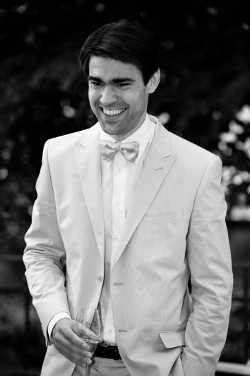 Contact
Former group member.
Mail: Felix.Heimann at iwr.uni-heidelberg.de
Research Interests
-Scientific Software-Engineering
Numerical solution of partial differential equations (PDEs)
Numerical simulations on moving domains
Numerical simulations in complex domains
Discontinuous Galerkin methods
Publications
Articles
Felix Heimann, Christian Engwer, Olaf Ippisch, and Peter Bastian An Unfitted Interior Penalty Discontinuous Galerkin Method for Incompressible Navier-Stokes Two-Phase Flow. Submitted to International Journal For Numerical Methods in Fluids, 2011, accepted.
Christian Engwer and Felix Heimann DUNE-UDG: A cut-cell framework for unfitted discontinuous Galerkin methods . Advances in DUNE - Proceedings of the DUNE User Meeting , 2011, Springer-Verlag.
Peter Bastian, Felix Heimann, and Sven Marnach Generic implementation of finite element methods in the distributed and unified numerics environment DUNE. Kybernetika, 46(2):294-315, 2010.
Felix Heimann An Unfitted Discontinuous Galerkin Method for Two-Phase Flow. Diploma Thesis, supported with the Student Thesis Scholarship of the International Research Training Group Non-linearities and upscaling in porous media (NUPUS).
Talks
An Unfitted Discontinuous Galerkin Method for Two-Phase Flowl. Invited to Mini-Symposium Conservative discretizations of the incompressible Navier-Stokes equations at the 16th International Conference on Finite Elements in Flow Problems (FEF), 2011.
Intricacies and Impact of Interface Regularization in Micro-Scale Simulations of Multi-Phase Flow. At Workshop on Interfaces and Interfacial Displacement in Unsaturated Porous Media 2010, organised by DFG-Research Group Multi-Scale Interfaces in Unsaturated Soil (MUSIS).